Visa® Check Card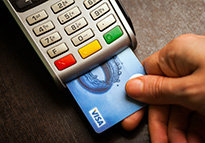 Access your checking account balance anytime, anywhere with just a swipe of this card! There's no need to write a check—use this card to make purchases and funds are automatically deducted from your checking account. Your Visa® Check Card is accepted online and in stores worldwide, and if you ever need cash, you can also use it at any ATM.
Summary

Free with any checking account

Anytime access to your checking account balance or just checking account

Make purchases or get cash

Accepted worldwide

Safer than cash

More convenient than checks

Funds deducted automatically from your checking account

No monthly payments or finance charges

Fraud protection

Customers may change their Visa® Check Card PIN (Personal Identification Number) at any Community Bank ATM or by calling 1-800-448-8268. If you don't know your current PIN, please contact The Community Bank at 740-454-1600.

Check Card Safety

Community Bank Check Card Safety

Due to the rise in fraudulent Check Card activity worldwide, The Community Bank has enacted some security precautions to keep your funds, your personal information and The Community Bank as safe as we can.

Where will my card not work?

At The Community Bank we include purchase restrictions on Check Cards to protect you and The Community Bank. Below you will find our current restrictions. These restrictions are subject to change based upon notification and request from you and/or as risks arise or as our business needs dictate.

The Community Bank has blocked all transactions that you do not input your Personal Identification Number (PIN) in the following countries (This includes Internet transactions):

· Brazil

· Hong Kong

· Mozambique

· Nigeria

· Saudi Arabia

· Spain

· South Africa

· Thailand

· Ukraine




For all other countries, with the exception of The United States, Canada and The United Kingdom, each non-PIN based transaction will be limited to no more than $200.




For The United States, Canada and The United Kingdom there will be no restrictions on Check Card purchases.




The purpose of these restrictions is to stop any fraud before it occurs which protects you and The Community Bank. Please contact us and we will work with you to lift any restrictions for your legitimate transactions.

What should you do before you travel overseas?

To prevent restrictions to your cards when traveling or spending outside of your norm, you should contact The Community Bank to notify our Card Services Department of your travel/purchase dates and destination. We can adjust your card to allow signature based transactions for your travel area during your specific traveling dates. Another benefit of contacting us ahead of your travels so we may lift any restrictions is that using your Community Bank Check or Credit Card typically allows you to get a better foreign exchange rate.

Will my Check Card work in foreign ATM's?

Yes, The Community Bank has not restricted any transactions in which you enter your PIN. However, please be aware that you may be charged exchange fees from the institution that you are withdrawing money. Also, please note that The Community Bank has a $405 per day limit on ATM withdrawals, so if you are going to need more money than that on a daily basis, please call our Card Services Department and have your daily limit temporarily increased.

What should I do if my Check Card or Credit Card is stolen?

The Community Bank has many systems in place to help reduce the potential for fraud. If your Community Bank Check Card or Credit Card is stolen, please call our Card Services Department immediately at 740-454-1600. This will allow us to protect you from being held liable for any losses that may occur.

What does The Community Bank do to protect me?

Most banks, including The Community Bank, monitor transaction patterns for suspicious behavior. If for instance you purchased groceries in your home town and 30 minutes later your card was used trying to buy a computer in an Australian electronics store that would be considered suspicious activity.

What should I use when traveling?

A tool that many people are using for travel is our Community Bank VISA Gift Card. These work just like a Check Card, are prefunded, and are not tied to your checking account like a traditional Check Card. One of many advantages VISA Gift Cards present is if by chance your VISA Gift Card would be lost or stolen, replacing it is much easier than replacing your regular Check Card.

We recommend that when traveling overseas you use a combination of cash, a Community Bank Credit Card and a Community Bank VISA Gift Card.

Where should I call with additional questions?

Community Bank customers with questions regarding any of these restrictions can contact our Card Services Department at 740-454-1600. We are happy to answer your questions and will work with you to ensure your card is protected but available for all of your travel needs.