Online Banking with Bill Pay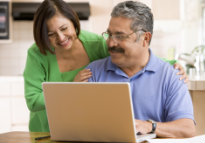 It's your money, so you should be able to get to it on your schedule! With our free Online Banking with Bill Pay service, you can do exactly that. Access your accounts anytime, anywhere—all you need is a computer and an internet connection. Check your balance, see if a deposit has cleared, and much more. It's all at your fingertips!
Summary

Manage accounts online anytime

Free with all deposit accounts

View account balances and detailed transaction history

Monitor transactions

Transfer funds between your online accounts

View and print images of your checks

Access up to 18 months' past statements

Set up "Notify Me" alerts

Reorder checks

Management of personal information including address and password changes

Reconcile your accounts without waiting for your monthly statement

Download account information into your personal finance software

Secure encryption of your private information

Transfers and transactions made at any banking office show online instantly

Request stop payments

Click "Enroll Now" above to sign up for Online Banking with Bill Pay. And sign up for Community Mobile Banking to access accounts from your cell phone.

To view our Online Banking with Bill Pay User Guide for step-by-step instructions to managing your account online, click here.

Online Bill Pay

Pay anyone with an email address and a bank account in the U.S.

Available with checking account

Save paper, time, and money

Payee information saved for future use

Secure encryption of your private information

Schedule one-time, occasional, or recurring payments

Receive bills electronically from leading merchants

Safer than mailing paper checks

Payments generally credited faster

Security

Your security is our priority.

Our Online Banking system uses many lines of defense to protect your account information. From authentication, SSL, exclusive encryption software, high-end firewalls, and automatic sign-off, your information is always safe—it's like having a bank vault online.