Online Banking Learn More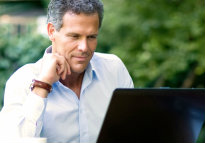 Welcome to The Community Bank's newest and most convenient banking office … your PC! You will now have access to your Community Bank accounts from anywhere you can access the Internet. This bank is open 24 hours a day, 7 days a week. You can see your account balances, verify automatic payments, make transfers between Community Bank accounts, download and view current account statements, and more.
New features and design to The Community Bank's Bill Pay System are now LIVE!
We updated The Community Bank's Bill Pay System to make it even simpler and more convenient for you to use. Your Community Bank Bill Pay home page will be an account dashboard that allows you to monitor payment activity at a glance. From your dashboard you'll be able to:
· View all payees, upcoming bills, payment history and pending payments on the dashboard.
· Research history view on the dashboard.
· Research pending payments view on the dashboard.
· Quickly add a new payee.
· Make a payment to any person or company in one click.
· Set up recurring payments for bills that are the same each month.
· See bill amounts and payment due dates with eBill.
· View all scheduled bills and reminders in a convenient calendar.
· Make changes and view your Bill Pay account and personal information. View and add Bill Pay alerts and categories.
· Access brand new Bill Pay alerts that are now available through email or mobile text!
For an informational video and interactive demo just click here.
Don't have Bill Pay?!?!?!
Sign up now so you can see what the buzz is about.
It is not a best practice to utilize bookmarked pages of The Community Bank's Online Banking with Bill Pay login page. We encourage users to bookmark our standard website www.thecombank.com for login purposes to Online Banking with Bill Pay. Should you have any questions, please contact The Community Bank during regular business hours, Monday through Friday 8:00am to 5:00pm at 740-454-1600.
A Customized Online Banking with Bill Pay Homepage
Click here to learn how you can fully customize and display the functions you use most to show on your Online Banking with Bill Pay homepage.
Online Banking with Bill Pay Agreement & Electronic Funds Transfer Disclosure
Is this a secure site? Yes, safeguarding the confidentiality of your account information is our primary concern.
Online Banking with Bill Pay User Guide
Click here for step-by-step instructions to managing your account online.
Online Banking with Bill Pay Maintenance Form
If you are unable to enroll online or wish to add or delete an account to Online Banking with Bill Pay, please print and complete this form and:
Password Reset Feature
Did you know that you can reset your password should you lose or forget it? If you have previously established your Password Reset Feature, it's as easy as following the onscreen instructions once you click here. If you need to establish your Password Reset Feature, click here for step by step instructions.
Tips for Preventing Fraud
Click here to read about ways to safeguard your data from online fraud.
e-Statements
We encourage you to sign up for free e-Statements today! Free e-Statements will allow you to gain immediate access to your statements—no more waiting on the mail courier. Plus, e-Statements are safer than paper statements sitting in your mailbox. Your e-Statement will be available to you anytime using your password-protected and encrypted Online Banking login. You can sign up for e-Statements once you are logged into your Online Banking account! Simply click on the "e-Statements" tab and follow the on-screen directions.
Bill Pay Demos:
Contact Us
For more information regarding any of the items above, please contact us whichever way is most convenient for you:
Call your local Community Banking office. Click here

for a listing of our convenient locations, phone numbers, and business hours.

Email us by clicking here

. For security purposes we recommend that you never use e-mail to send personally identifiable, confidential information to the Community Bank.
To view a list of our supported browsers, click here.