Community Mobile Banking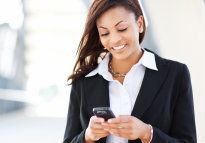 Staying ahead of the competition means being able to move quickly. When you're out of town or too busy to get to the bank or sit down at your computer, you can still manage your accounts. Just pick up your web-enabled smart phone or mobile device! With Community Mobile Banking, you can check balances and transfer funds. It's easy to use and totally free.
Summary

Available from any mobile phone with secure sockets layer

Web access required

Free through Online Banking with Bill Pay*

View account balances for all online accounts

View account history for the past 15 days

Monitor transaction details of all online accounts for the past 15 days

Transfer funds between enabled online accounts

Initiate Cash Management batches (Commercial Cash Management customers only)

Receive mobile texts (must be enrolled through Online Banking)

View and search for Community Bank office and ATM locations

View account alerts




To experience the convenience of Community Mobile, simply visit mobile.thecombank.com from your cell phone. Log in using the same Access ID and Passcode you use for Online Banking.




Downloading the Apps

To download the iPhone or Android app, simply visit this page on your smartphone by entering TheComBank.com/Apps and select the appropriate button below for your device.





FAQ

Q: What is Community Mobile?

A: Community Mobile will give you instant connectivity to your accounts whenever, wherever using the browser on your cell phone. This mobile banking service allows you to access account details, history and check account balances. In addition, Community Mobile will allow you to transfer funds between accounts.

Q: Will Community Mobile work on all mobile devices?

A: Community Mobile is a browser-based application that is available from any mobile device enabled with Secure Sockets Layer (SSL) internet access. The streamlined online banking pages and functions are designed for mobile browser access.

Q: How do I access Community Mobile?

A: You simply type mobile.thecombank.com in your cell phone's web browser to access our site.

Q: Do I need to enroll for Community Mobile?

A: Community Mobile requires you to have an active account and be enrolled for Online Banking. You will not be required to download any applications. Once you access mobile.thecombank.com through your cell phone browser, you will be prompted to log in. Use the same Access ID and Password you use to access your Online Banking.

Q: What accounts can I access with Community Mobile?

A: Community Mobile allows you to access any of your Community Bank accounts currently available for access within online banking.

Q: How do I view my account information?

A: Once you access the site at mobile.thecombank.com, you'll see a listing of all your online accounts and their available balance, from which you can choose to view account information. Simply click on the account you would like to access to view more information.

Q: Can transfers be made using Community Mobile?

A: Internal transfers can be made using Community Mobile. The Transfers page will list all approved online transfer accounts. The cut-off time for transfers is 3pm EST.

Q: Is Community Mobile secure?

A: All standard online banking security features are applied at login, including dual authentication.

Q: How much does Community Mobile cost?

A: Community Mobile is a FREE service from The Community Bank. However, depending on the rate plan with your mobile service provider, you may incur charges when accessing the internet. Please verify your coverage before accessing your account. The Community Bank is not responsible for charges incurred from your mobile service provider.