Business Visa® Check Card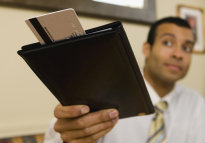 Keep instant access to your checking balance in your pocket, no matter where you are. With this card, you can make purchases or get cash anytime. Funds are deducted directly from your account just like a check, but it's more convenient and more widely accepted. It's the perfect way to keep company funds close by at all times.
Summary

Anytime access to your checking account balance or just checking account

Make purchases or get cash

Free with any checking account

Accepted worldwide

Safer than cash

More convenient than checks

Funds deducted automatically from your checking account

No monthly payments or finance charges

Customers may change their Visa® Check Card PIN (Personal Identification Number) at any Community Bank ATM or by calling 1-800-448-8268. If you don't know your current PIN, please contact The Community Bank at 740-454-1600.